Semester Description:
This special semester is intended for undergraduate students in their 3rd or 4th year of a Biology program. The semester will introduce students to many facets of Marine Biology through a rich blend of lecture, laboratory and field instruction. The course will operate from the UNBF campus with trips to many ecologically diverse sites throughout the Bay of Fundy including visits to the Huntsman Marine Science Centre in scenic St. Andrews. Courses will emphasize biological diversity in the marine environment, ecological methods in intertidal habitats, methods in physiological and molecular research pertinent to studying marine organisms, and aquaculture. This broad range of disciplines encompasses many of the key skills and knowledge areas necessary for the contemporary marine biologist and will assist students in identifying appropriate specialties for further studies at the undergraduate and graduate levels.
---
BIOL 4211 Marine Research Experience 2ch (4L) Students enrolled in the Marine Block semester will be introduced to the research themes and practices in the laboratories of their professors. Groups of students will cycle through all of the marine research labs for hands-on research experience throughout the semester. Students will be expected to compile short scientific-style reports outlining the results of their respective projects in each research laboratory experience.
BIOL 4221 Diversity of Marine Algae 5Ch (C/L/S) Dr Gary W. Saunders. This course will survey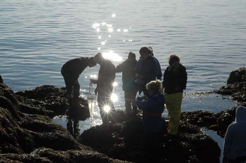 the diversity of marine plants (seaweeds & phytoplankton) relative to one another and the other key lineages of life; exploring their diverse anatomical, cytological, life history and ecological attributes. In the laboratory students will use microscopy to explore vegetative and reproductive features of the various marine plants in our area. Emphasis will be placed on the use of molecular tools for the identification of morphologically cryptic species to assist in accurate biodiversity surveys, and to explore and discuss aspects of algal biogeography and speciation.
BIOL 4641 Coastal Marine Ecology 5Ch (C/L/S) Dr Myriam Barbeau. This course examines the ecology of shorelines, with a focus on the Atlantic coast. Topics include the setting (continental drift, sea level, species origins, water movement), primary and secondary production, reproduction and recruitment, patterns (zonation) and processes (competition, mutualism, predation, disturbance), and main habitats (rocky shores, mudflats, salt marshes).
BIOL 4691 Biology of Marine Parasites 5ch (C/L/S) Dr. Mike Duffy. Nearly every life form on earth is host to a parasite. This course emphasizes the hands-on study of parasites of invertebrate animals and marine fishes and incorporates field investigations and laboratory work. This course serves to integrate parasite diversity and life history, aspects of the ecology of parasitism, mechanisms of infection, epidemiology, host responses to infection, and pathology. Students will receive training in postmortem examination, microscopy, parasite identification and diagnosis (morphological and molecular). Experience with experimental design, scientific writing, and data presentation will be acquired in association with independent student research projects.
BIOL 4991 Aquaculture in Canada 5Ch (C/L/S) Dr Tillmann Benfey. This course examines the biological principles and constraints of commercial and pilot-scale aquaculture in Canada, with emphasis on the Atlantic region. Major emphasis is placed on salmon aquaculture, including captive reproduction, applied genetics, stress and disease management,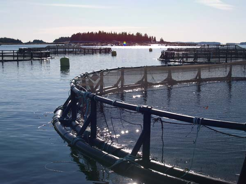 nutrition and feeding, biotechnology, and systems design. Unique attributes of non-salmonid fish species are then examined in comparison to the salmon model. The same approach is used to provide an overview of bivalve aquaculture, with emphasis on mussel and oyster culture, and on seaweed aquaculture. Tours of commercial aquaculture sites are a major focus of the field component of the course. Students also design and conduct short research projects on campus, as well as engaging in formal debates on aquaculture sustainability.
Application Procedure: If you are interested in the Marine Block program, simply go to your eServices portal and register for the courses listed here. You will be temporarily placed on a waiting list for each course while we check your prerequisites for the Block courses. Upon admission to the program you must provide a deposit of $100 to secure a position in the semester. Enrollment is limited to 18 students, so apply early. All payments are to be made at Financial Services. Cost to student: Regular tuition + $675 ($100 deposit plus $575 at the start of the semester) - covers all field trip costs excluding food (except trips to the HMSC for which food is included). If you have any questions please contact Dr. Mike Duffy (email).